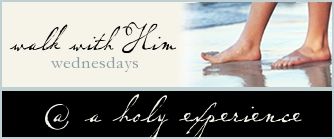 I found a blog this past June whilst reading the author's amazing/glorious/magnificent/poetical/genius/insert-your-favorite-happy-adjective-here book,  A Thousand Gifts – A Dare to Live Fully Right Where You Are  entitled A Holy Experience .  I have never encountered a blog so beautiful and so rich with wisdom!    I am in awe that  she writes every single day, and peppers her posts with oodles of free printables and photographs that transplant me instantly in her beautiful world – a farm in Canada.
I quickly realized that she had thousands of followers (and by that, I mean readers)  all over the world.    She has been blogging for over 7 years – she is a beautiful success, yes – but she has paid her dues, amidst virtual pages and pages of beautiful prose and photos.   No matter what she chooses to write about,  her words are always saturated in God's beautiful grace, as she uses her gift of poetry to write luminous prose.
I learn alot when I read her blog, but more importantly, through her words I am always pointed to God as the ultimate source of strength, grace and all good gifts.  She writes Walk With Him Wednesdays (see blog button above) and today is the first Wednesday I've linked up with the beautiful community of fellow blogging kindreds – yet another reason I'm grateful for the 31 Days posts.   The inspiration to actively join in the blogging/writing communities I have only read in silence for so long is liberating.  I'm a newbie to writing in public places (my journal has held volumes of my writing dreams for years), but countless nudges from friends and fellow pilgrims is encouraging as I step out in faith and cut my writing teeth (so to speak) with the keyboard, instead of my pen.
This morning, I started my day by taking my yoga mat outside under a solid shady tree in our backyard.  I brought my Bibles (multiple translations because I geek out like that), my current Bible study, my journal and various books I'm working through to enrich my devotional time.  As the breeze blew, I drank my coffee, and yes, drank in the Word of God, and various pieces of wisdom.  My non-believeing friends may not understand this,  but I absolutely adore and cherish my quiet moments of study and devotion.  I don't hear audible moments of God's speaking, but I'm always amazed how He confirms things He wants to say to me by bringing me to the same message in various books and Scriptures.  For example, this weekend, God kept helping me find my way to Isaiah 49:16 where He tells us He holds us in the palm of His hands… (I blogged about this a few days earlier).  I was in a completely different book, and then a separate devotional, and the writer's instruction for a quiet exercise was thus:
Picture the size of God's hands – wider than the billions of light-years that make up the expanse of the heavens and large enough to hold all the waters and the dust of the earth.  This is the God who lives within you.  Tricia McCary Rhodes 
I then read through passages of Daniel, study notes, then more passages of Isaiah, Psalms and finally some journaling. I closed my eyes and prayed silent words to God, thanking Him for all of the work He's doing in my life as I wait on Him for continued direction.
Active waiting on God is always A Holy Experience…
To wait open-endedly is an enormously radical attitude toward life. So is to trust that something will happen to us that is far beyond our imaginings. So, too, is giving up control over our future and letting God define our life, trusting that God moulds us according to God's love and not according to our fear. The spiritual life is a life in which we wait, actively present to the moment, trusting that new things will happen to us, new things that are far beyond our own imagination, fantasy, or prediction. That, indeed, is a very radical stance toward life in a world preoccupied with control.

– Henri J. M. Nouwen