I've spoken of my best friend's version  of 1000 gifts and gratitude pages earlier in this post series aptly titled The Happy List.   I could probably blog everyday with various entries from the ones I've journaled over the years.   I used to make a point of entering highlights from my current HL on this blog, but realized I've  gotten away from it recently.  It is has been without a doubt a vital tool in the Active Waiting journey.  Without further ado, let me remedy this situation:
Rehearsing Christmas carols in October.
Attending my first ever professional football game with new friends and the Love of my Life…at Jerry's Death Star – I mean the new Cowboys stadium.  The Cowboys played (and won against! ) the St. Louis Rams.  A fine first it was indeed…
Making perfectly carmelized onions in under 15 minutes.
The process of writing everyday and the discipline it instills in me.
Waking up to cloudy, rainy skies in Texas!
A warm Starbucks mocha on a chilly fall afternoon.
I associate libraries with old churches – which only makes sense, I suppose, for in both places one finds a quiet kind of reverence and 'people of the book'.    ~Sarah Arthur

I am determined to practice deep listening.  I am determined to practice loving speech.                               ~Thich Nhat Hanh

 

In Me, you are never a mess – you are made new.  In Me, you are never wrecked — you are rescued.  In Me, you are never a loser — you are lavished in love.                                                       ~GOD (paraphrase by Ann Voskamp)

You never really understand a person until you consider things from his point of view – until you climb into his skin and walk around in it.                                                          ~Atticus French in "To Kill A Mockingbird"
Morning devotions outside on my yoga mat.
When getting my thyroid rechecked at the doctor's office, I had lost 3 pounds.
While spending time with loved ones in Wichita, having a moment with 4 generations of my family in one room.  My grandmother, my uncle, myself & my brother, and his beautiful daughter Ella – sooo thankful!
Deliciously fragrant dryer sheets
Planning my upcoming Blessings Unlimited gathering this weekend!
I struggle to write about God and God's love, knowing that I am totally inadequate, and yet feeling called to proclaim a love so marvelous that it can only be wondered at and rejoiced in with delight.                         ~author Madeleine L'Engle in "Penguins & Golden Calves"
Linking up with fellow bloggers today – Ann , Michelle and Jen in gratitude and thanksgiving amidst my 31 Days Series of Active Waiting…perhaps join us today in proclaiming thanks for grace and gifts?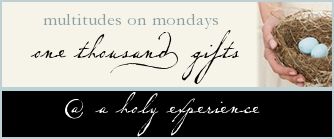 This is Day 24 in a series of posts, kindly look to the right sidebar and (if they randomly appear  below for more days in the series?  Delightfully joining over 700 other bloggers on this journey!