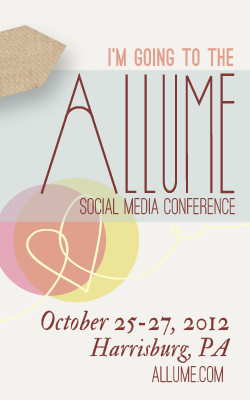 So, after a year of waiting,
I'm actually preparing to attend my first blogging conference.  I first eyed the Allume conference last year, when it was called the Relevant conference.  After being mistaken too many times for affiliation with the hipster Christian magazine of the same name, the conference changed it's name to Allume, and on a dreary night in March, I stayed up way past my bedtime, and happily registered for the first time.  I had attempted to register in 2011, almost as soon as I learned of the conference' existence, but alas, it was sold out, and I was de-nied.  Getting registered early this year felt like I had obtained an elusive golden ticket.
Not surprisingly, this weekend has snuck up on me this fall – amidst the flurry and bustle of a crazy-busy-back-to-school-whilst-performing-an-operetta schedule!  I have been catching blog posts and facebook chats about Allume when I can, but I must admit my heart and mind don't feel quite prepared for the experience.  
While I feel relatively prepared to handle the hustle and bustle of the conference, it's the details that have me a little frazzled.  I am thankfully rooming with 3 other ladies, but I have never met a single one of them, and since I've been too busy to write the obligatory "10 Things My Allume Roomie Needs To Know About Me" post, I can only hope I don't develop a case of whooping cough before getting to Pennsylvania, or find myself offending any of their sensibilities with my extroverted ways. 
I've also noticed women posting questions on the newbie facebook page  with all the seriousness of someone about to make a pilgrimage to Jerusalem!  I couldn't have even dreamed up some of these questions! I can only hope I pack for appropriate weather (though I had hoped for cold temps, it'll be in the 70s.  I know, I need to shut my mouth and not complain!), and pray my laptop cord holds on by a wing and a prayer.
All that to say, in honor of travelling to Allume, today I am posting a roadtrip playlist!
Roadtrip playlists truly are some of the most fun 'mixtapes' to make!  Everyone's seems to make them a little differently.  Some people mix their current favorite tunes, others have dance-worthy jams overflowing to keep them bopping along the highway.  I took the approach of including songs that speak to 'the road' specifically.  
I hope if you are on your way to the Allume conference, you can fire up this playlist at will, and enjoy the expectant energy that always comes before a glorious experience!  I hope you will come up to me and introduce yourselves at the conference – I know I will do my best to do so as well – I can't wait to meet all of your friendly faces!                  
(Kindly scroll down to the list of songs below if you don't see the Grooveshark playlist on your smartphone or ipad).
 31 Days of Playlists – Road-Trippin'
1.    Travelin' Thru – Dolly Pardon
2.    Ventura Highway – America
3.    America – Simon & Garfunkel
4.    I'm Gonna Be (I Would Walk 500 Miles) – The Proclaimers
5.    Fast Car – Tracy Chapman
6.    Every Day Is A Winding Road – Sheryl Crow
7.    Sweet Disposition – The Temper Trap
8.    American Girl – Taylor Swift
9.    Truckin – The Grateful Dead
10.   Freeway of Love – Aretha Franklin
11.   Caravan – Van Morrison
12.   Traveler – Fernando Ortega
13.   Holiday Road – Lindsay Buckingham
14.   On The Road Again – Willie Nelson & Johnny Cash
15.   Take Me Home, Country Roads – John Denver
16.   Travelin' Prayer – Billy Joel
17.   Road Trippin' – The Red Hot Chili Peppers
18.   I Drove All  Night – Cyndi Lauper
19.   Roam – B-52's
20   Take It Easy – The Eagles
21.  Where The Streets Have No Name – U2
22.  Life Is A Highway – Rascal Flatts
23.  Send Me On My Way – Rusted Root
24.  Along The Road – Ashton, Becker & Dente
What are some of your favorite road trip tunes?