1)

source: weheartit.com via pinterest

2)



source: fromportlandtopeonies.blogspot.com
 
3)

source:shobematt.tumblr.com via pinterest

4)

source: everythingfab.com via pinterest

5)


source: allthingselegant.tumblr.com
 
6)

source: beriablogs.com




7)


source: flickr.com via pinterest
8)
source: be-the-change.tumblr.com via pinterest
"…If it seems slow, wait patiently, for it will surely take place.
It will not be delayed…"
–Habbakkuk 2:3
This is the twelfth day of a 31 Days series…

scroll down to read previous posts, or also see the feed of the most recent posts in this series to the right…
Today we're steppin' out and linking to two beautiful blog communities below….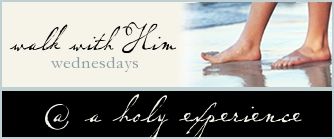 Find us linked in at Ann Voskamp's beautiful blog – take a read, perhaps link up your own post, and experience the joy of walking with Him today?

Today is our first Wednesday to link up
here
…take a look at some fun giveaways, and perhaps check out some new blog communities?