I know, I know – This is the
third
time I've combined 2 days into 1 post because I'm frightfully behind…I hope you are still up for reading the series, my faithful friends.  I know I've said it before, but having never posted a blog daily before – I've learned the hard way that Blogger is unforgiving when it comes to the timing of the posts.  I would love to go ahead and write two full days worth to make up for the days I was absent,  and put up 2 posts – one for each of the days they were due.    However, I'm either not technically saavy enough to know the secret to doing that, or Blogger is unswervingly devoted to not allowing a post to come a day late… Yesterday's post simply wasn't ready yesterday, so today my friends, I present to you….
yet another 2-fer-1…..
Part of the reason I was not here yesterday was that (along with some much needed quality time with The Love of My Life, i.e. my Husband) I was hard at work on a new business venture I'm quite excited about…
I was reading
my new favorite blog
 this summer, and came across beautiful photos of home decor that caught my eye – not necessarily because it was just another beautiful photo or pretty piece, but because of the message in it's design.  We are all attracted to beauty and beautiful things. (I may not have the interior decorating gene, but I sure surf the blogs of the bloggers that do).   But the thing that was wonderful in this decor to me was
the eternal message
.  Anytime I find a home decor item, or picture, or journal with God's truth in it's design, I am glad that something beautiful is ultimately pointing to something greater and infinite – God's love for us and His care and blessings in our lives.
By Grace Alone
This is one of my favorite prints offered by Blessings Unlimited. (It also comes in your kit of products when you become a consultant.)  It sets on my desk at home as a constant reminder to me when I become bogged down in projects and work…to internalize the truth God gives us – especially when we're venturing out into new territory in life or work, and begin to doubt the gifts and abilities we've been given…
I've never been one who thought they would enjoy selling something…people used to tell me I'd be good in sales, and quite frankly, I didn't know whether to be insulted or not.   I always associated sales with pushy folks begging you to buy products you'd never need or use.  I also knew I could never sell a product I didn't truly love.  I needed to believe in the value of something that I spent my hard earned bucks on, and  I was afraid I'd be perceived as the pushy obnoxious type.
    Well thankfully, I am happy to report that through researching and learning more about the Blessings Unlimited company (a division of Dayspring), I discovered a wonderful community of hard working, kind people that truly have a heart of hospitality, service and joy in giving folks the opportunity to obtain good quality products with an eternal message of hope, love and grace.
   I became a consultant late this summer, and I'm thrilled to be giving my first presentation locally to a group of women tomorrow night.     I wish I could invite all of you in blog-land, but at the very least, click on the address below the fall catalog pic if you'd like to check out some of what Blessings has to offer:
For those of you visiting the blog locally (in the Dallas/Fort Worth area), I'm hosting my own Blessings Unlimited gathering on Saturday, October 29th.  Kindly contact me through the comments if you'd like more information on attending, or would like to chat with me about hosting a gathering of your own!
Blessings Unlimited
 is one of the things I am grateful for in my life as I continue to
actively wait
… Until my husband and I know whether or not we'll be briefly relocating our lives (see some
previous Active
Waiting posts
  for more of that story), I am unable to apply for work in one place or another.  Blessings Unlimited is an opportunity to work from home, or wherever my future journeys may take me.   This is a great opportunity if your a stay at home Mom, or even if you have a full time job, and just want a fun secondary income adventure.   If this sounds like something you'd be interested in exploring, I'd love to give you more information.  I'm sorry this sounds like a sales pitch – that's not the purpose of my blog – but I truly wouldn't be talking about it if it wasn't something I didn't think you'd enjoy too…
So much to enjoy this beautiful Monday!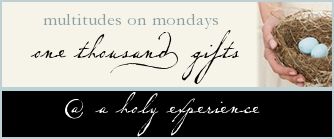 As I write out the 
eucharisteo
moments in my life today, I'm taking time to see all of the pages that I've accrued since last June in my Gratitude journal.  I've always kept what I call a
"Happy List"
along with my regular journal, inspired by
my best friend
, where I could write not just 'happy' things, but anything that moves my soul to understanding, wisdom, love, light and inspiration…  I started adding to that list by keeping these pages.  I'm grateful to have a record of all of the gifts – the good and the hard – that living the life God gives brings to us.
Whether you choose to write it down or not, would you perhaps consider the moments of grace and thanks you experience along the way?
This is the 17th day in the 31 Days series of posts…check the side bar to the right for previous days, perhaps join the journey of active waiting?  Click the link and discover over 700 other blogger's series of 31 Days