I'm writing this blog post from a hotel lobby in my home state of Kansas.  My husband and I just spent a most lovely weekend in Arizona visiting family and enjoying holiday meats like turducken (a turkey stuffed with a duck that's stuffed with a chicken with the entire bird stuffed with creole stuffing – not for the faint of heart, and incredibly delicious!!), playing put-put and bowling with the family, hugging my beautiful sisters and sweet puppy dogs to pieces, and drinking copious amounts of soy milk eggnog (in case you were wondering – also delish).
Though I have not lived here for quite some time, I was born, raised and went to college in this smack-dab-in-the-middle-of-the-country state.  Feeling the brisk Kansas wind, seeing familiar landmarks today, and the beautiful wide open spaces and sky have made me reflective and grateful for the places we call home.
Though I've lived in many a state-and as far as I'm concerned, home is and will always now be where me and My Love lay our heads-there's something about the place where you drew your first breath, learned life lessons, loved your family and friends.  The place that shaped you and your inner thoughts, and gave you an internal anchor as you travelled far and wide, only to discover that all over the world, we all long for the same things.
I don't know about you, but when I grow introspective about my life, there always seems to be a musical soundtrack accompanying my thoughts. With that, I give to you my Thanksgiving and Gratitude playlist. 
As you enjoy your lingering moments today with loved ones, and reflect on memories made this Thanksgiving, perhaps one of these songs will accompany your journey — or help you hum a little tune on your way?
Homeward Bound – Simon & Garfunkel
Celebrate Me Home – Kenny Loggins
I've Got Plenty To Be Thankful For – Bing Crosby
Thank You — Dido
Give Thanks & Praise – Bob Marley & the Wailers
Harvest Moon – Neil Young
Thanksgiving Song – Mary Chapin Carpenter
…The main title of the day is Thanksgiving, or giving thanks to God for all He has given us.  But of course the real question is, why aren't we doing this every day?  Why don't we praise him for right now, for this moment, wherever we are?

~Sarah Arthur
I'm linking up with a bevy of beautiful blogs today!  Stop by and say hello, or if they are the source of your visiting, kindly consider leaving me a comment or hello?


I am reading one of L.L. Barkat's books at the moment, and it feels like a new friend I've always had – definitely a new fan – and really enjoyed her post at Seedings Into Stone.


Michelle Derusha's blog is now a regular read for me…I especially loved her post The Scent of Slow.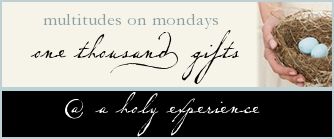 I'm happy to say linking up with Ann's blog is now also becoming a weekly habit. Blogging.Genius. Nuff said.
This is a new-to-me blog link.  Enjoying the blog community at
The Wellspring
.